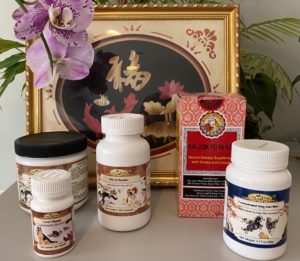 Traditional Chinese Medicine is a type of holistic, natural health care system that dates back at least 2,000 years to the year 200 B.C. TCM stimulates the body's healing mechanisms and takes into account all aspects of a patient's life, rather than just several obvious signs or symptoms. TCM practitioners view the body as a complex network of interconnected parts (part of a larger concept known as Qi), rather than separate systems or organs. TCM includes the practice of acupuncture and Chinese herbal medicine.
Chinese Herbal Medicine
Herbal remedies have been a part of healing pets for centuries.
Most of our traditional medications come from or are modifications of plants. The biggest difference between Chinese herbals and traditional medications is that supplements and herbals are often gentler and come with fewer side effects. On the flip side, their effects are more subtle and may take longer to perceive. However, this doesn't make them any less valuable. When used correctly, they can greatly improve medical conditions and benefit overall health.
That being said, herbals and supplements can be quite harmful if used improperly or for the wrong conditions. Because herbs can be dangerous on their own, it is strongly recommended to only use and purchase them under the guidance of a properly trained veterinarian. Ordering from a company or individual that is not careful about the content and origin of their herbs can potentially create serious problems.
Our source for Chinese herbals uses TLC (thin layer chromatography) and HPLC (high-performance liquid chromatography), special procedures which ensure potency and test for active constituents. Every batch of herbs is tested before, during and after processing.
They obtain their herbs from a trusted source that not only verifies their authenticity but also ensures they are toxin-free and environmentally friendly. This is done through chromatography to guarantee accuracy and safety. All their raw material and herbal products comply with the new stringent Good Manufacturing Practices (GMP). GMP certification means that the site and methods employed in the production of our herbs have been subject to a thorough quality control investigation and is certified to comply. Tests for moisture content, dissolution, heavy metals (lead, arsenic, mercury, cadmium) and microbial content (including bacteria and fungi) are performed on every batch of the finished product.